Perfect Parfaits to Cool Off This Season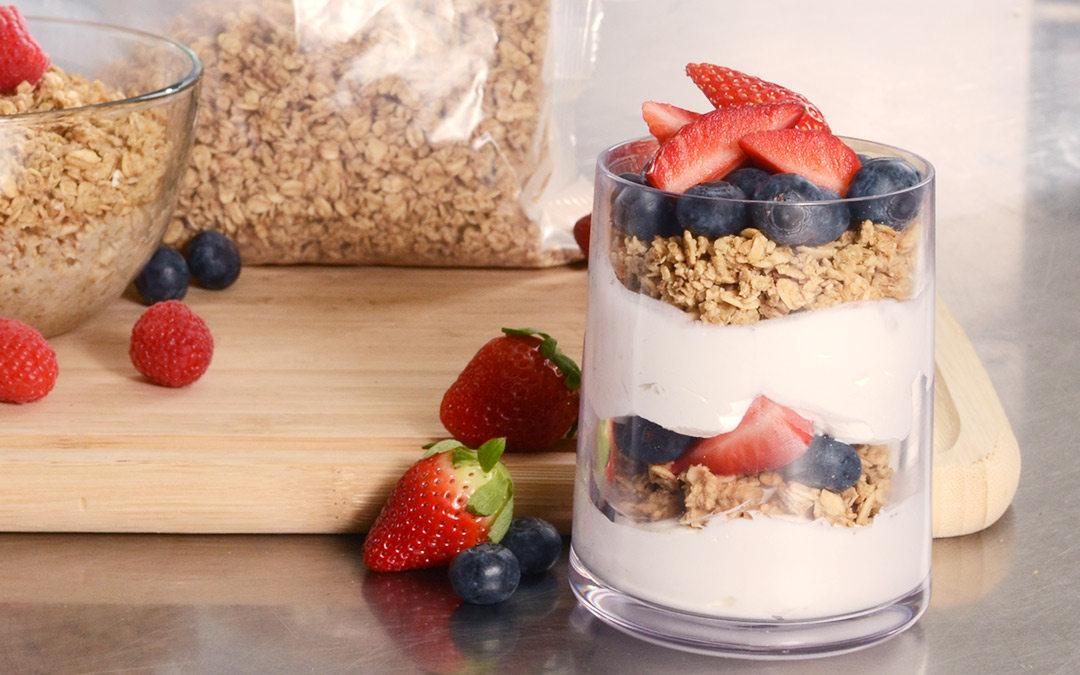 Summer is officially here! We're all looking for quick, tasty treats that are filling and help us to cool off. Few things are easier on the taste buds that a scrumptious parfait made with good-tasting Fieldstone® Bakery premium original granola cereal paired with refreshing seasonal ingredients. Just thinking about it makes the mouth water. Try these recipes…
Red, White & Blue Granola Parfaits
Red, White & Blue Granola Parfaits are a great patriotic treat for the Fourth of July with a mix of berries (i.e. blueberries, strawberries, raspberries) and yogurt layered with whipped cream topping and crunchy granola. For the best taste, nothing beats fresh, local berries. The presentation of the layers in a unique glass adds to the fun.
A Grilled Peach Parfait
A Grilled Peach Parfait will make breakfast feel like eating dessert – and it is actually pretty healthy! This recipe calls for using caramelized grilled peaches cooked on the BBQ the night before, allowing time for them to cool before chopping and refrigerating for the next day. Butter and sugar can be spread on before cooking to soften and sweeten the peaches. It takes more time to prepare than some parfaits, but patience pays off in a tasty change up from the usual berries. Get the recipe at http://kitchensanctuary.com/2015/06/grilled-peach-breakfast-parfait/.
Banana, Chocolate Chip and Granola Greek Yogurt Parfait
Finally, for those who live for the taste of dark chocolate, we suggest the Banana, Chocolate Chip and Granola Greek Yogurt Parfait. It is easy to make for breakfast and will have everyone craving another. Sink your teeth into this sweet, healthy treat and start your day off right. This one is easy and fast enough to make that kids can try their own at home. See the recipe at http://www.bestbrunchseattle.com/easy-healthy-breakfast-recipes/banana-chocolate-chip-yogurt-parfait .
Once prepared, these recipes should be served immediately or covered and refrigerated for a couple of hours. These summer parfaits all go great with Fieldstone® Bakery Granola products. The Premier Granola is available in single .6 ounce, single 1 ounce, single 2 ounce, and bulk 12 lb. 8 oz sizes. The Cinnamon Granola is available in single 1 ounce and bulk sizes. They are made with whole grain oats, whole oat flour and molasses.
Don't forget to serve the children these delectable treats with the proper tall glassware, including a long spoon to make each bite even tastier and fun.
To learn more about Fieldstone® Bakery products, visit http://fieldstonebakery.com/107.22/schools.
Back to All Recipes