Little Debbie for Meals On the Go
LITTLE DEBBIE FOR MEALS ON THE GO
Life is busy, and sometimes it's difficult to factor in meals when you're rushing around from one place to another. Work, school, soccer, board meetings, dentist appointments, you name it– it's probably on your customer's calendar. So what if ready-made meals and snacks including delicious snack cakes and treats from Little Debbie were available to your client base through grab-and-go vending options? Make their lives easier, and they will come back again and again.
PERFECT PARING AND BOXED MEALS
Items from our product line make for perfect additions to boxed lunches and breakfasts for busy, on-the-go eaters. Consider a boxed lunch consisting of a sandwich or wrap, a piece of fruit, and a Little Debbie snack cake to round it out with a little sweetness. They also say breakfast is the most important meal of the day, but so many are too busy or too ill-prepared to have the perfect traveling breakfast ready when they jump-start their days. With our products, you can put together ideal to-go breakfast compilations your customers will love. Think yogurt, fruit, and Fieldstone® Bakery granola!
MARKET SEGMENT IDEAS
These boxed meals and snack pairings work perfectly for a variety of market segments such as:
1. Micro Markets
2. Catering Services
3. Cafeterias– Schools, hospitals, large offices, manufacturing facilities, and more
4. Ghost Kitchens
PROMOTION IDEAS
Consider offering promotions in their cafeterias and micro-markets for combinations that include Little Debbie and Fieldstone® Bakery items. Add the incentive for customers to choose your boxed meals and snack pairings with products everyone knows and loves. Making it easy for buyers to grab-and-go while also getting a great combination of food items means higher sales for you.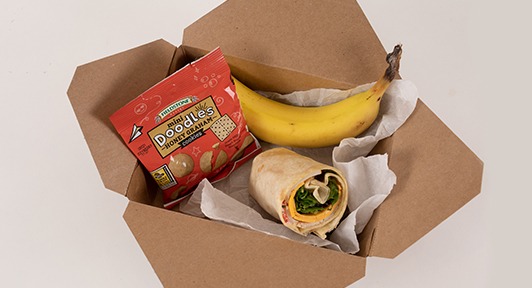 Back to All Posts